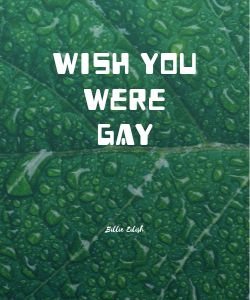 Baby, I don't feel so good
Baby, ik voel me niet zo goed
Six words you never understood
Zes woorden dat je nooit begreep
Ik zal je nooit laten gaan;
Five words you never say (Aww)
Vijf woorden dat je nooit zei
I laugh alone like nothing's wrong
Ik lach mee alsof niets fout is
Four days has never felt so long
Vier dagen heeft nooit zo lang geduurd
If three's a crowd and two was us
Als drie een menigte is dan is twee ons
One slipped away (Hahahahahahahaha)
I just wanna make you feel okay
Ik wil je gewoon oké laten voelen
But all you do is look the other way
Maar al wat je doet is gewoon de andere kant opkijken
I can't tell you how much I wish I didn't wanna stay
Ik kan je niet genoeg zeggen hoeveel ik wenste dat ik niet zou willen blijven
I just kinda wish you were gay
Ik hoopte een beetje dat je gay zou zijn
Is there a reason we're not through?
Is er een reden dat we niet door zijn?
Is there a 12 step just for you?
Is er een twaalfde stap gewoon voor jou?
Our conversation's all in blue
Onze conversaties zijn in het blauw
11 "heys" (Hey, hey, hey, hey)
Ten fingers tearing out my hair
Tien vingers dat mijn haren uittrekken
Nine times you never made it there
Negen keer dat je het niet fair maakte
I ate alone at 7, you were six minutes away (Yay)
Ik at alleen bij zeven; zes minuten weg
How am I supposed to make you feel okay
Hoe moet ik je oké laten voelen?
When all you do is walk the other way?
Wanneer al je doet is de andere kant stappen?
I can't tell you how much I wish I didn't wanna stay
Ik kan je niet genoeg zeggen hoeveel ik wenste dat ik niet zou willen blijven
I just kinda wish you were gay
Ik hoopte een beetje dat je gay zou zijn
To give your lack of interest an explanation
Om je gebrek aan interesse een uitleg te geven
Don't say I'm not your type
Just say that I'm not your preferred sexual orientation
Misschien ben ik niet je geliefkoosde seksuele preferentie
But you make me feel helpless, yeah
Maar je laat me hulpeloos voelen
And I can't stand another day
En ik kan het niet nog een dag verdragen
Ik kan het niet nog een dag verdragen
I just wanna make you feel okay
Ik wil je gewoon oké laten voelen
But all you do is look the other way
Maar al wat je doet is gewoon de andere kant opkijken
I can't tell you how much I wish I didn't wanna stay
Ik kan je niet genoeg zeggen hoeveel ik wenste dat ik niet zou willen blijven
I just kinda wish you were gay
Ik hoopte een beetje dat je gay zou zijn
I just kinda wish you were gay
Ik hoopte een beetje dat je gay zou zijn
I just kinda wish you were gay
Ik hoopte een beetje dat je gay zou zijn
Giveaway Pulsa
Share This :